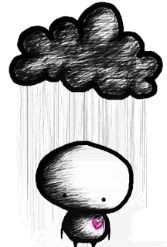 I was having one of those days where you just don't feel like smiling because you feel nothing is worth smiling about. Obviously, there are many things worth smiling about...I was just having one of those days. I feel like I've had this little cloud hovering over me the past couple of weeks and it's just been raining on me nonstop.
I have been feeling a little better, sometimes it's a matter of really saying
FUCK IT.
I did that this Friday when I said I needed to stop being EMO and start being myself again! I needed to get out, distract myself, dance, listen to music, party & bullshit and what better than to do so with my favorite girls in the world! I had a great time and I'm so happy I got out and enjoyed myself, stress and worry free!


I am so blessed to have these two girls in my life! I have known them for eight years now and I'm glad we continue building memories and pick up where we leave off each time. I love my girls!
xoxo
Mayra